---
INEXISTENT BOOKS VI
at SALONG, Oslo
May 19–June 10, 2023


With contributions by Kasper Andreasen, Bia Bittencourt, Stefano Calligaro, Claude Closky, Mette Edvardsen, Thomas Geiger, Philipp Gufler, Lisa Him-Jensen, David Horvitz, Kurt Johannessen, Svenn Fahna Josson, Florence Jung, Sveinn Fannar Jóhannsson, Aaron Krach, Micah Lexier, Sara MacKillop, Lars Mørch Finborud, Son Ni, Sophie Nys, Michalis Pichler, Liao Qianyao, Jan Steinbach, Derek Sullivan, Elisabeth Tonnard, Jiří Valoch, Elsa Werth, Øystein Wyller Odden, Rahel Zoller, Fiona Banner aka The Vanity Press, Claudia de la Torre, Martijn in 't Veld, Studio for Propositional Cinema, Villa Design Group, Slow Reading Club, [Anonymous]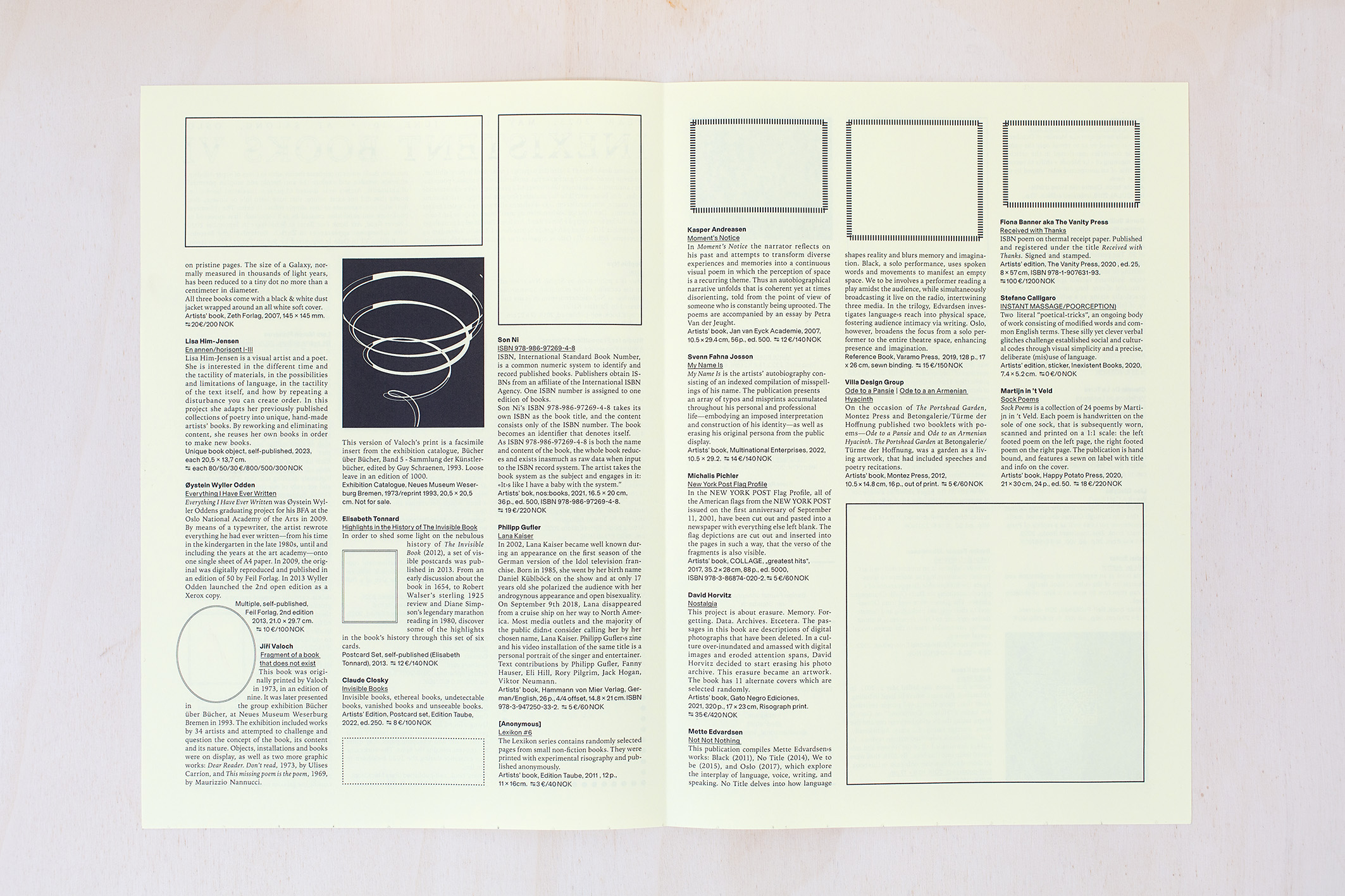 ---
INEXISTENT BOOKS V
at aula46, Barcelona
January 27–February 2, 2022


With contributions by Leo Adef, Kasper Andreasen, Iñigo Awewave, Bia Bittencourt, Christiane Blattmann, Vanina Bruc, Stefano Calligaro, Delphine Chapuis Schmitz, Claude Closky, Elena Codes, Lars Dyrendom, Nil Fernandez, Sabrina Fernández Casas, Thomas Geiger, Roger Guaus, David Horvitz, Florence Jung, Sveinn Fannar Jóhannsson, Kai Landre, Sara MacKillop, David Macho, Marc Medina, Vito Montolio, Lisa Mühleisen, Diego Navarro, Yoshinori Niwa, Sophie Nys, Brooke Sylvia Palmieri, Michalis Pichler, Virgilio Piñera, Louis Porter, Liao Qianyao, Juan Camilo Rodriguez, Tessa Rose, Jenny Rova, Jan Steinbach, Cassie Thornton, Elisabeth Tonnard, Elsa Werth, Fiona Banner aka The Vanity Press, Ceel Mogami de Haas, Claudia de la Torre, Martijn in 't Veld, Studio for Propositional Cinema, Hammann von Mier, Villa Design Group, Nusser Glazova, Slow Reading Club, H.P. Blavatsky & Sun Ra, Belledejour Studio, AKAGUERRI, AMÁS Escena, Fundacíon Elena Barraquer, juns
---
INEXISTENT BOOKS IV
at MATERIAL, Zürich
June 15–26, 2021


With contributions by B., Kasper Andreasen, Fiona Banner, Bia Bittencourt, Christiane Blattmann, Stefano Calligaro, Delphine Chapuis Schmitz, Lars Dyrendom, Thomas Geiger, David Horvitz, Florence Jung, Sveinn Fannar Jóhannsson, Sara MacKillop, Lisa Mühleisen, Yoshinori Niwa, Sophie Nys, Jenny Rova, Jan Steinbach, Cassie Thornton, Elisabeth Tonnard, Claudia de la Torre, Martijn in 't Veld, Studio for Propositional Cinema, Hammann von Mier, Villa Design Group, Nusser Glazova, Slow Reading Club, H.P. Blavatsky & Sun Ra

---
Inexistent Times
Mailorder Catalog for Inexistent Books

INEXISTENT BOOKS III
at PrintRoom Rotterdam
November 2020–May 2021 w/INEXISTENT TIMES MAILORDER CATALOG



With contributions by B. (Betty Leirner), Bia Bittencourt, Cassie Thornton, Christiane Blattmann, Claudia De La Torre, Elisabeth Tonnard, José Quintanar, Fiona Banner aka The Vanity Press, Florence Jung, H.P. Blavatsky & Sun Ra, Hammann von Mier, Jenny Rova, Kasper Andreasen, Lars Dyrendom, Lisa Mühleisen, Martijn in 't Veld, Nusserglazova, PrintRoom Team & Various Artists, Sara MacKillop, Slow Reading Club, Sophie Nys, Stefano Calligaro, Studio for Propositional Cinema, Sveinn Fannar Jóhannsson, Thomas Geiger, Villa Design Group and Yoshinori Niwa.


This issue of Inexistent Times contains one limited edition print by one of these artists:

Bia Bittencourt, Christiane Blattmann, David Horvitz, Florence, Kasper Andreasen, Slow Reading Club, Studio for Propositional Cinema, Sveinn Fannar Jóhannsson, Thomas Geiger.

Sveinn Fannar Jóhannsson
Holes [Special Edition], 2020
Duotone risograph print
Single-sided
420 × 297
Stamped and numbered 8/50 on the back
---
Inexistent Times
Mailorder Catalog for Inexistent Books

INEXISTENT BOOKS III
at PrintRoom Rotterdam
November 2020–May 2021 w/INEXISTENT TIMES MAILORDER CATALOG


Issue IIIA, November
2020
Published by Inexistent Books, PrintRoom
Edited by J. Steinbach, K. De Jong
Zürich, Switzerland/Rotterdam, Netherlands: 2020
210 × 297 × 2 mm
Folded A3 sheet
Duotone risograph print
A3 print edition included
With contributions by B. (Betty Leirner), Bia Bittencourt, Cassie Thornton, Christiane Blattmann, Claudia De La Torre, Elisabeth Tonnard, José Quintanar, Fiona Banner aka The Vanity Press, Florence Jung, H.P. Blavatsky & Sun Ra, Hammann von Mier, Jenny Rova, Kasper Andreasen, Lars Dyrendom, Lisa Mühleisen, Martijn in 't Veld, Nusserglazova, PrintRoom Team & Various Artists, Sara MacKillop, Slow Reading Club, Sophie Nys, Stefano Calligaro, Studio for Propositional Cinema, Sveinn Fannar Jóhannsson, Thomas Geiger, Villa Design Group and Yoshinori Niwa






This issue of Inexistent Times contains one limited edition print by one of these artists:

Bia Bittencourt, Christiane Blattmann, David Horvitz, Florence, Kasper Andreasen, Slow Reading Club, Studio for Propositional Cinema, Sveinn Fannar Jóhannsson, Thomas Geiger.

Studio for Propositional Cinema
Ancient Knowledge Survivalist Manifesto, 2020
Duotone risograph print
Single-sided
420 × 297
---
INEXISTENT BOOKS II
at CV Books, Cabaret Voltaire, Zurich
October 2–30, 2020

Published by Inexistent Books
Edited by Jan Steinbach
Zürich, Switzerland: 2020
210 × 297 × 2 mm
Folded A3 sheet


With contributions by Kasper Andreasen, Fiona Banner, Bia Bittencourt, Christiane Blattmann, Stefano Calligaro, Lars Dyrendom, Thomas Geiger, Florence Jung, Sveinn Fannar Jóhannsson, Sara MacKillop, Lisa Mühleisen, Yoshinori Niwa, Sophie Nys, Jenny Rova, Cassie Thornton, Elisabeth Tonnard, Claudia de la Torre, Martijn in 't Veld, Studio for Propositional Cinema, Hammann von Mier, Villa Design Group, Slow Reading Club, B., H.P. Blavatsky & Sun Ra, Nusserglazova
---
INEXISTENT BOOKS
at I Never Read, Art Book Fair Basel at Schaulager
September 17–20, 2020

Published by Inexistent Books
Edited by Jan Steinbach
Basel, Switzerland: 2020
210 × 297 × 2 mm
Folded A3 sheet


With contributions by Kasper Andreasen, Fiona Banner, Bia Bittencourt, Christiane Blattmann, Stefano Calligaro, Lars Dyrendom, Thomas Geiger, Florence Jung, Sveinn Fannar Jóhannsson, Sara MacKillop, Lisa Mühleisen, Yoshinori Niwa, Sophie Nys, Jenny Rova, Cassie Thornton, Elisabeth Tonnard, Claudia de la Torre, Martijn in 't Veld, Studio for Propositional Cinema, Hammann von Mier, Villa Design Group, Slow Reading Club, H.P. Blavatsky & Sun Ra, Nusserglazova
---
Inexistent Books Order Form
Single-sided
A5
---